Regular price
Sale price
$10.00 CAD
Unit price
per
Sale
Sold out
20 seeds stratified in wet sand.
Chestnuts are found throughout the temperate world as an important food staple to many cultures. Chestnuts are the bread tree providing abundance from above on a yearly basis. They are beautiful and cherished across many cultures. The more we learn about chestnuts the more we love them. 
Variety 6 Mile: An old set of trees located near our farm in the Nelson BC area. Reportedly a hybrid of Japanese and American parentage the productive tree we collect from has a heavy consistent yield of nuts every year and has withstood temps below -20 c in its lifetime. Fast growing seedlings, we've seen young trees grow more than 4 feet in a year if planted in a rich site. 
These trees can withstand dense plantings with some trees in Gellatly's nut farm being less than 10 feet apart. This would greatly benefit pollination. Chestnuts need a partner to produce nuts. Besides holding different genetics, another partner tree will ensure a difference in timing for pollen set. We recommend planting 3-5 seedlings more densely than expected and selecting 2-3 of the most vigorous trees over time. You can use the fallen trees as quality mushroom logs or woodcrafting.
Share
View full details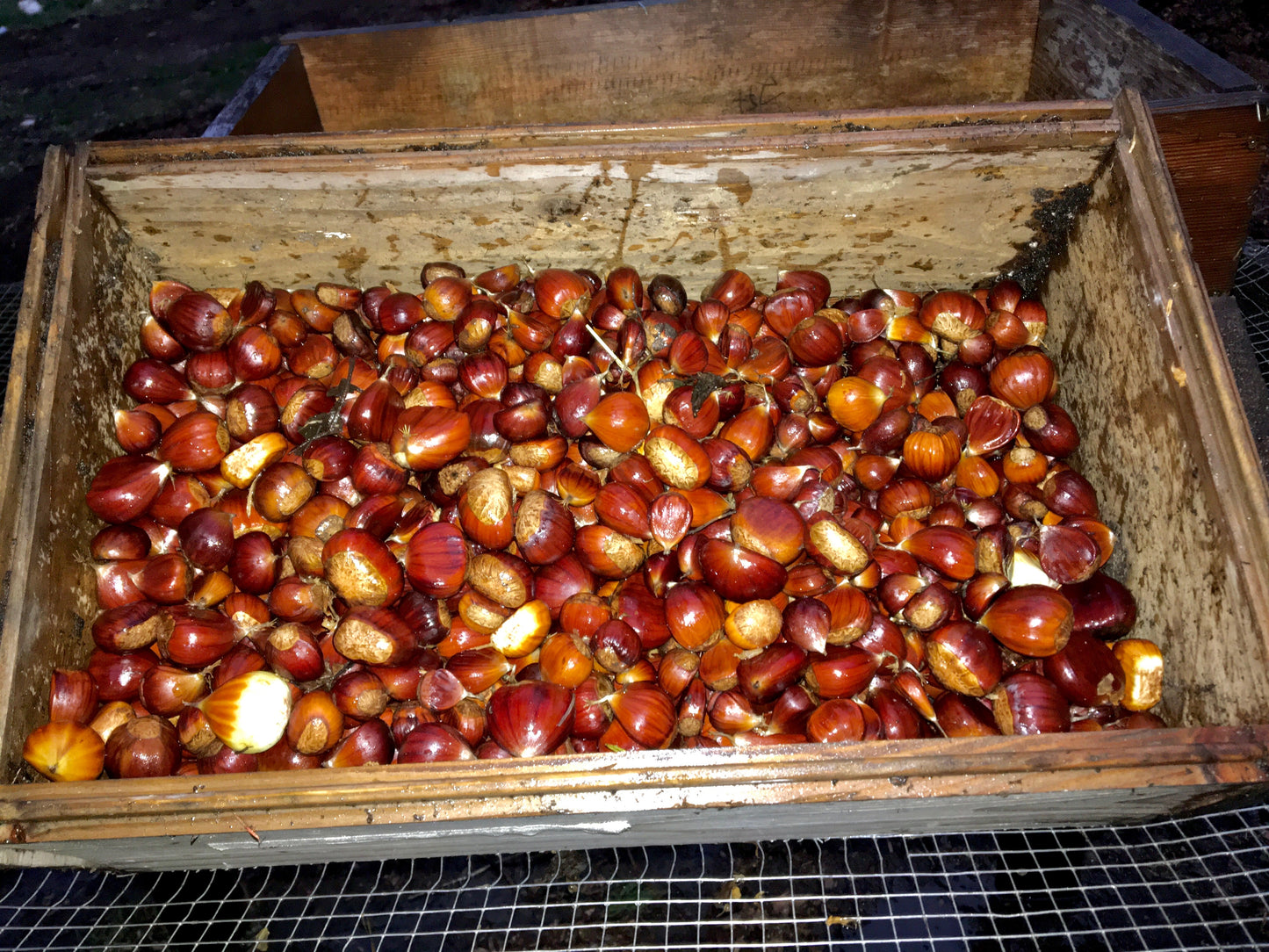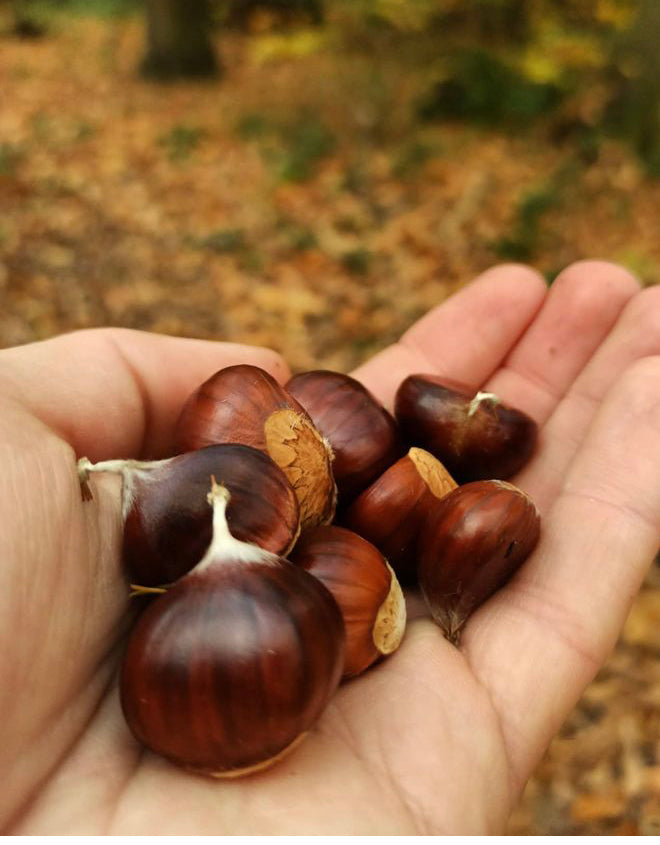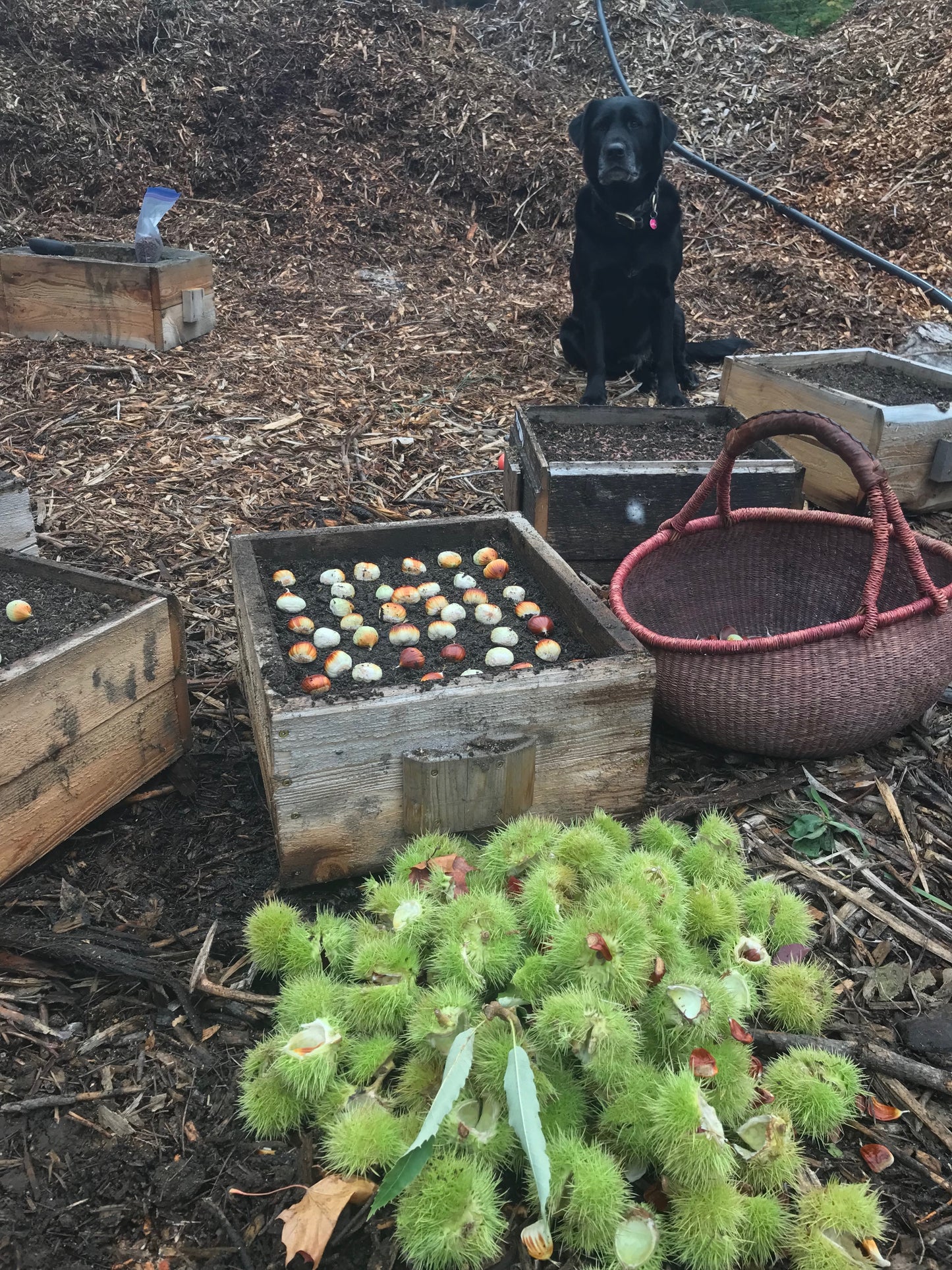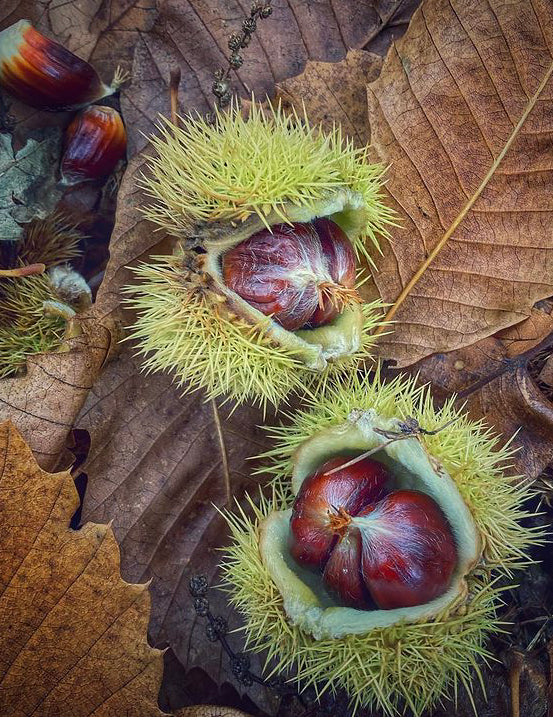 Collapsible content
Planting Directions

Planting Depth: Plant 1/2" to 1" deep. Cover with a thick layer of mulch

Nursery Practice: Stratified seed should be sown in air prune flats or pots that can be protected from critters. Once germination begins remove protection and lift air prune flat off the ground. Plant in rich well drained aerated soil. Keep soil moist with deep infrequent waterings.

Planting Out: Seedlings can be field planted out after the 1st or 2nd year out of the home nursery once dormant. Look for a well developed root system and at least 8"-12" of top growth.
The Tree

Height at maturity:20-30 meters

Hardiness Zone:

4

Water Requirements:

Well drained average to moist soil

Years to bear:

5-7

Solar:

Prefers full sun once mature. Can handle a bit of shade when young and appreciates a canopy release after a year or two.

Pollination:

Need at least 2 for pollination. Place at least 25-50 feet of one another or closer.

Soil:

Prefers well drained acidic soil. Use the pit and mound technique or planting on berms to help maintain drainage.