Regular price
Sale price
$20.00 CAD
Unit price
per
Sale
Sold out
1 year old seedlings 16"-30"+ 
Chestnuts are found throughout the temperate world as an important food staple to many cultures. Chestnuts are the bread tree providing abundance from above on a yearly basis. They are beautiful and cherished across many cultures. The more we learn about chestnuts the more we love them. 
These nuts are not only a key food source for humans but also play a significant role in animal feed, particularly in integrated systems where livestock benefit from their high carbohydrate content.In these systems, the trees provide shade and shelter for animals while contributing to the ecological health of the pasture. The nuts can supplement animal diets, reducing the need for external feed sources and enhancing the overall sustainability of the farm.
Soil: These chestnuts thrive in well-drained, loamy soils, though they are adaptable to a range of soil types.
pH: Slightly acidic to neutral pH levels (pH 4.5 to 7.0) are optimal for their growth.
Water: Regular watering is crucial, especially during the establishment phase and the growing season, to ensure healthy nut development. Mature trees display moderate drought tolerance.
Light: Full sunlight is ideal for these chestnuts, encouraging the best nut production.
Chestnuts offer value through their wood, especially in mushroom cultivation. The wood of chestnut trees is highly regarded as an excellent substrate for growing mushrooms, given its favorable composition and texture. This characteristic adds another layer of productivity to chestnut-based systems.
In agroforestry practices, planting chestnuts densely allows for a strategic thinning process over time. This approach ensures that only the best, most robust trees are selected for nut production. The trees that are removed during thinning can be repurposed as mushroom substrate logs, thereby optimizing the use of resources and minimizing waste.
Varieties:
Gellatly: This chesnut seedlings is an offspring from famous nut breeder Jack Gellatly's heritage nut farm in Kelowna, BC. Gellatly used a combination of European and Chinese genetics to create hybrids that produce large crops of nuts while maintaining cold hardiness and disease resistance. Many of the parent trees are well over 75 years old and producing heavily with no signs of disease. 
6 Mile: An old set of trees located near our farm in the Nelson BC area. Reportedly a hybrid of Japanese and American parentage the productive tree we collect from has a heavy consistent yield of nuts every year and has withstood temps below -20 c in its lifetime. Fast growing seedlings, we've seen young trees grow more than 4 feet in a year if planted in a rich site. 
These trees can withstand dense plantings. Some chestnuts at Gellatly's nut farm were planted less than 10 feet apart which would greatly benefit pollination. Chestnuts need a partner to produce nuts. Besides holding different genetics, another partner tree will ensure a difference in timing for pollen set. We recommend planting 3-5 seedlings more densely than expected then select 2-3 of the more vigorous trees over time to stay. 
Share
View full details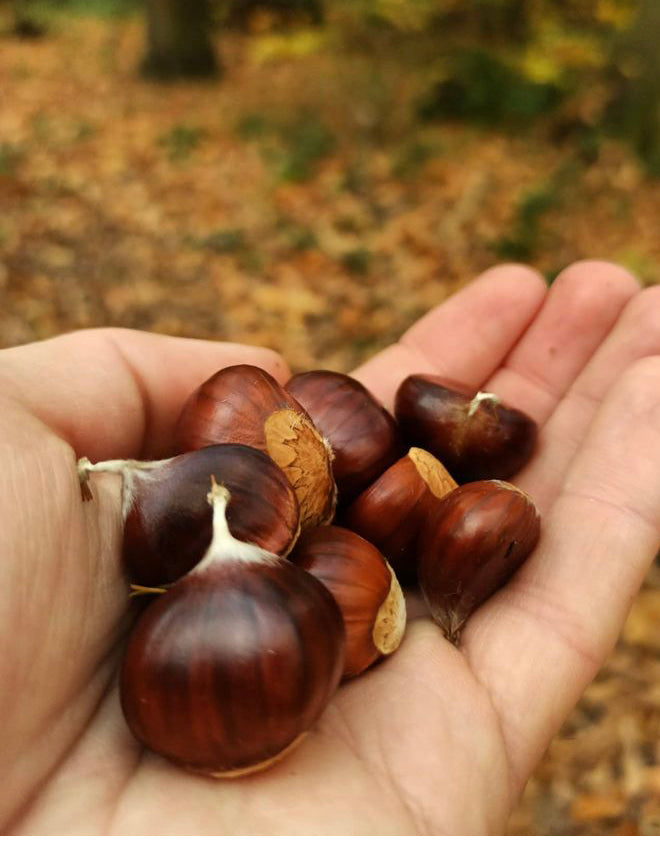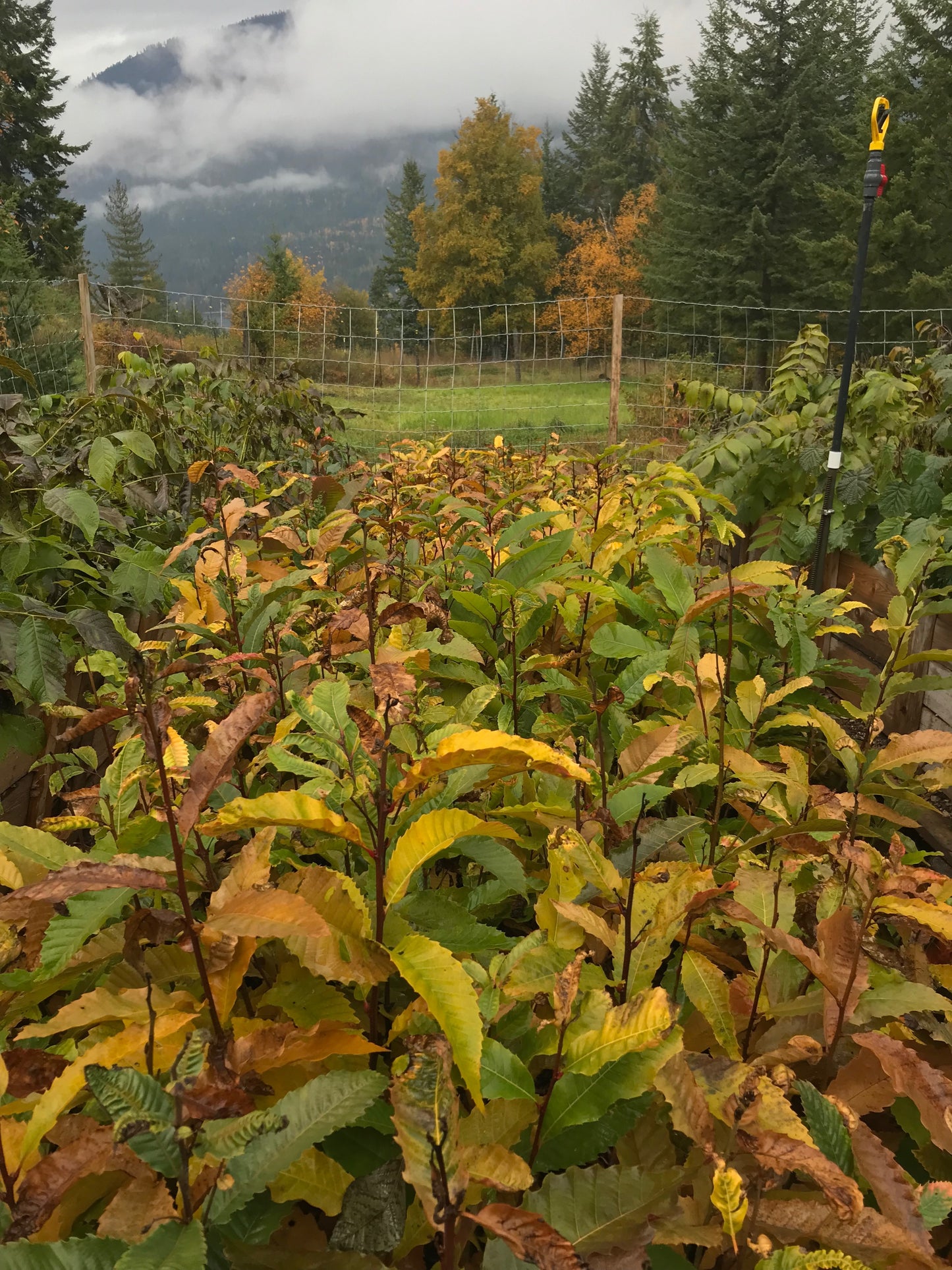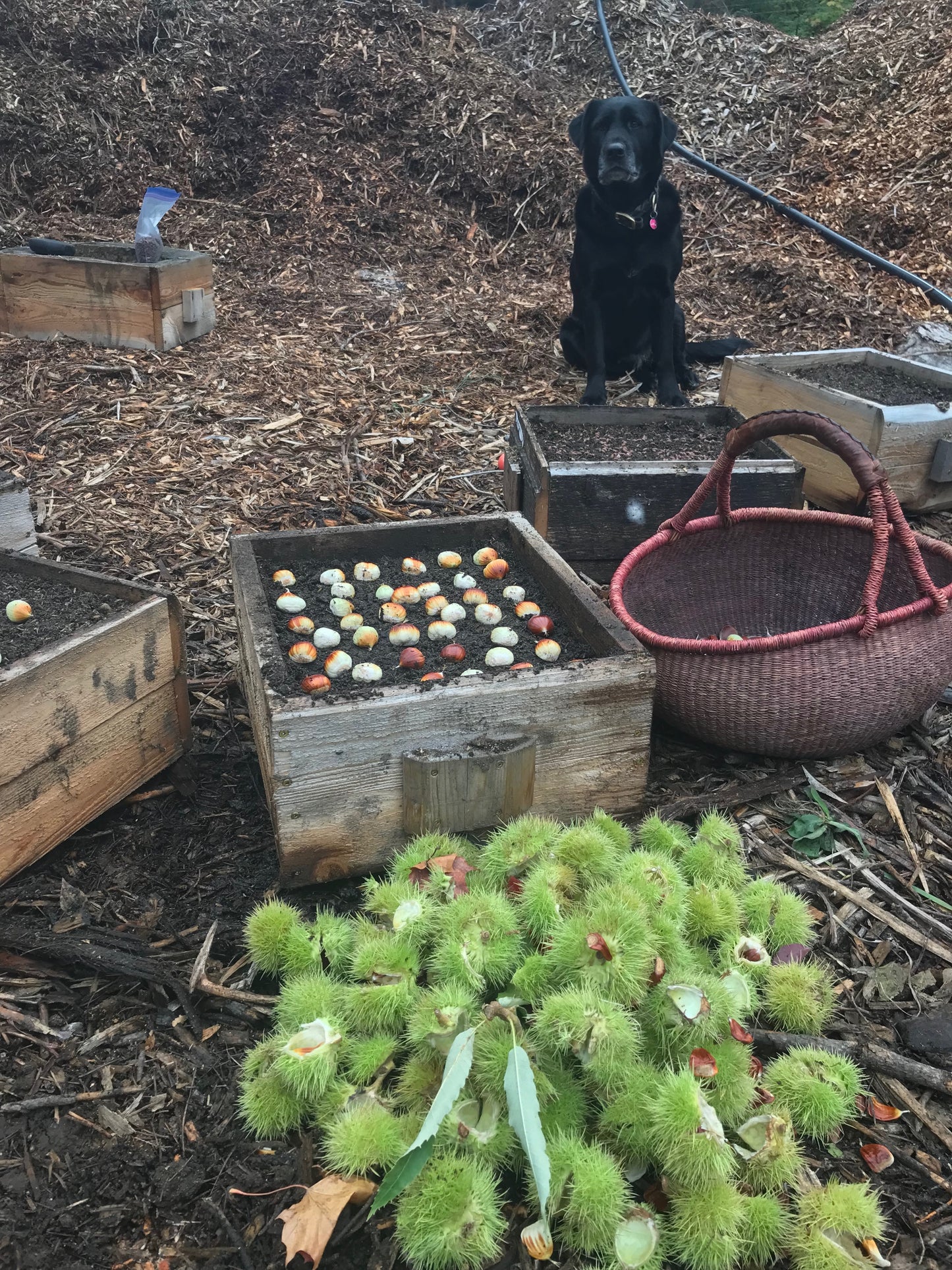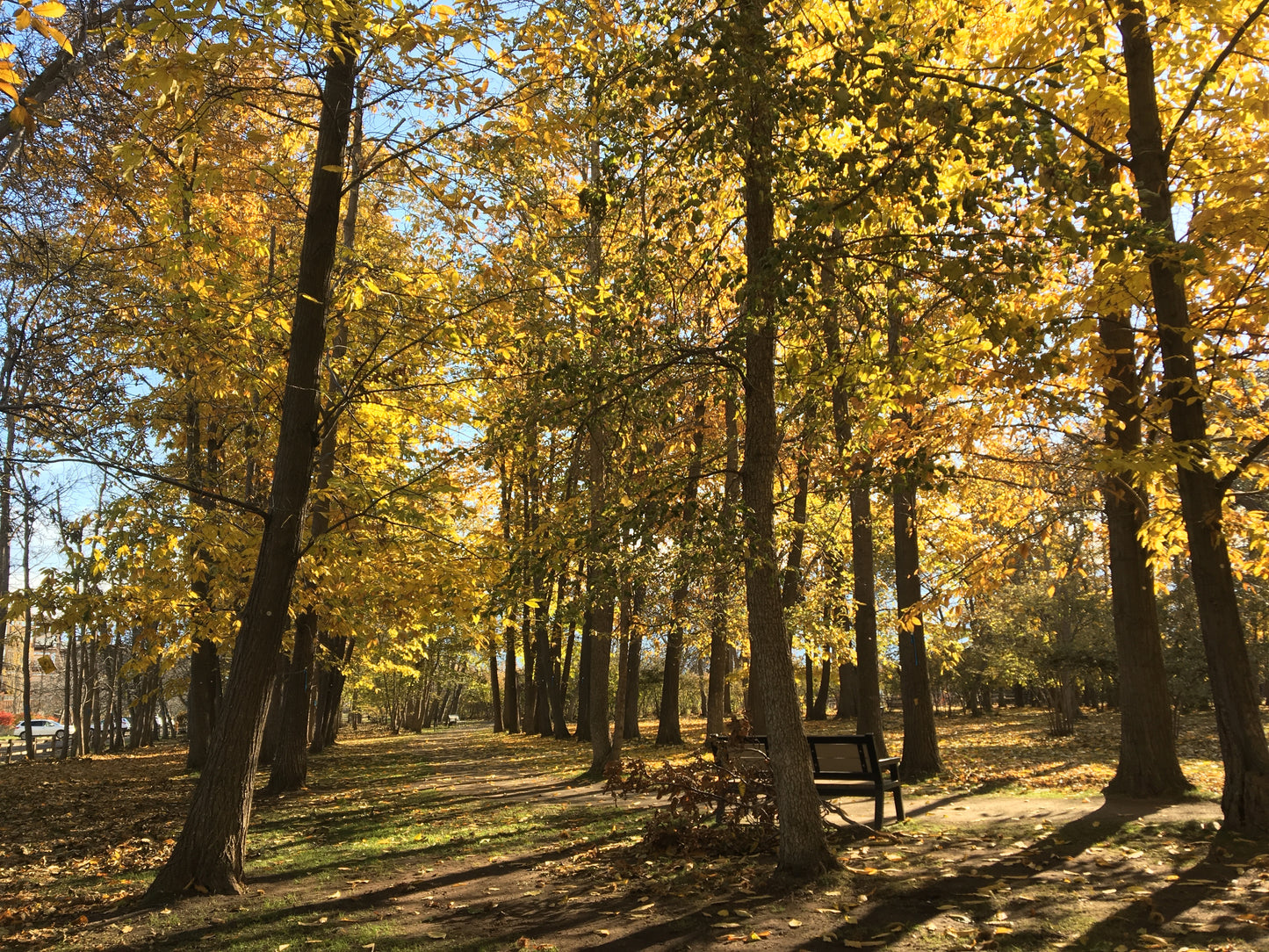 Collapsible content
The Tree

Height at maturity:20-30 meters

Hardiness Zone:

4

Water Requirements:

Well drained average to moist soil

Years to bear:

5-7

Solar:

Prefers full sun once mature. Can handle a bit of shade when young and appreciates a canopy release after a year or two.

Pollination:

Need at least 2 for pollination. Place at least 25-50 feet of one another or closer.

Soil:

Prefers well drained acidic soil. Use the pit and mound technique or planting on berms to help maintain drainage.
The Benefits

-Produces a delicious edible starchy nut that can be eaten raw or roasted for easier processing and improved taste
-Valuable timber tree for lumber and fine wood working
-Prized by mushroom growers, can host a diverse number of fungi species
Additional info

-Overstory Tree
-Forms are diverse. We saw multi stem parents that pollinated single stem parents and vice versa where we collected seed.
-Because these trees are grown in BC we dont face any problems sending them anywhere in Canada